The centuries old Traditions at Royal Wedding of England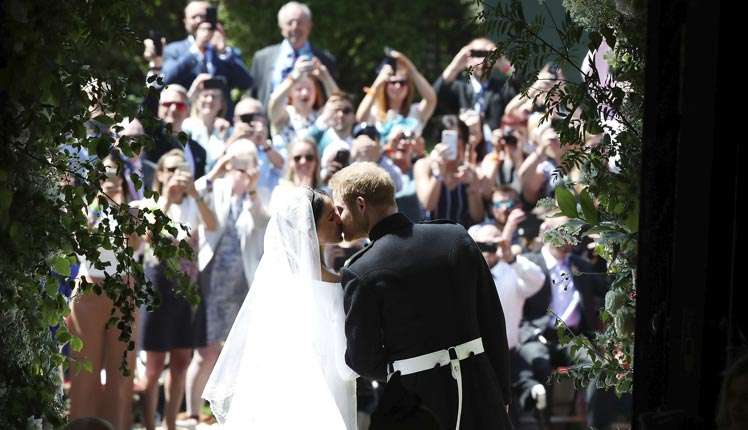 The Royal wedding of Prince Harry and Meghan Markle was amidst the colorful galore of celebration at Windsor. Thousands gathered at the St. George Chapel, while the marriage was viewed across the globe via online channels. Apart from other attractions of a royal wedding, the traditions followed by the royalty of Britain are interesting. Here are the top five traditions commonly followed in weddings of the royal family.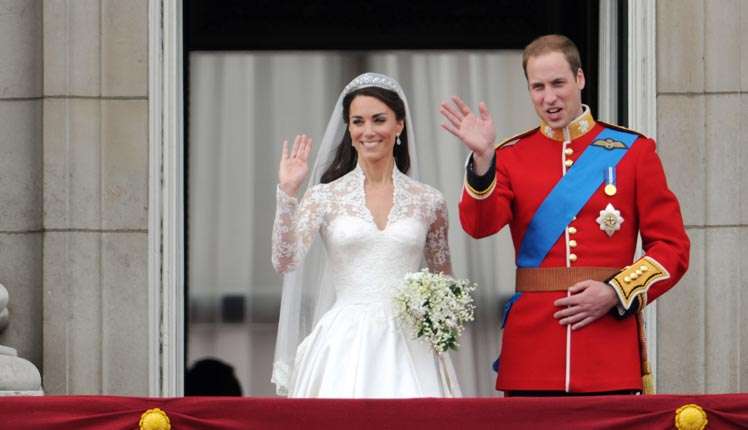 Prince William and Kate Middleton at their wedding.
Royal brides wearing Orange Blossom
The tradition of wearing orange blossoms started with Queen Victoria, who wore a wreath of orange blossom in her marriage to Prince Albert on April 10, 1840. The orange blossom is considered as an emblem of chastity. Latter, the floral emblem became a standard wedding attire for all brides in Victorian period, right from Princess Victoria to Princess Alexandra. It was also used by Princes Mary of Teck on her marriage to The Duke of York. Queen Elizabeth also wore the orange blossom design on her marriage to the Duke of Edinburgh in 1947.
Meghan Markle laid her wedding bouquet at the tomb of an unknown soldier.
Walking down to Tomb of Unknown Warrior
Almost 100 years ago, Queen Elizabeth, Lady Elizabeth Bowes-Lyon stopped to lay her flowers at the Tomb of an unknown warrior. It was, in fact, her gesture of respect to her brother, Fergus, who dies at the Battle of Loos in 1915. The Queen paid her tribute to millions of soldiers killed and injured in World War I. Since this gesture, many royal brides followed the gesture, making it a tradition. Meghan Markle too laid her bouquets to the tomb of an unknown warrior.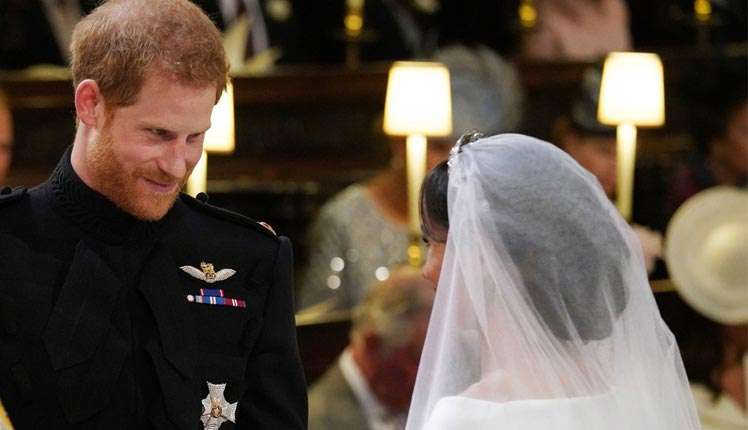 Reportedly Meghan Markle also wore the wedding ring made from the 21 carat Welsh gold.
Welsh Gold Wedding rings
Wedding rings of all royal princess are made of the same nugget of Welsh gold. This was mined in a Welsh mine at Clogau St David's, Bontddu. Now only about one gram of the original nugget is available now and is kept in the custody of Privy Purse Office. In 1981, November, the Royal British Legion presented a 36-gramme piece of 21 carat Welsh gold to The Queen. Gold from this piece is used now to wield wedding rings for royal Princess.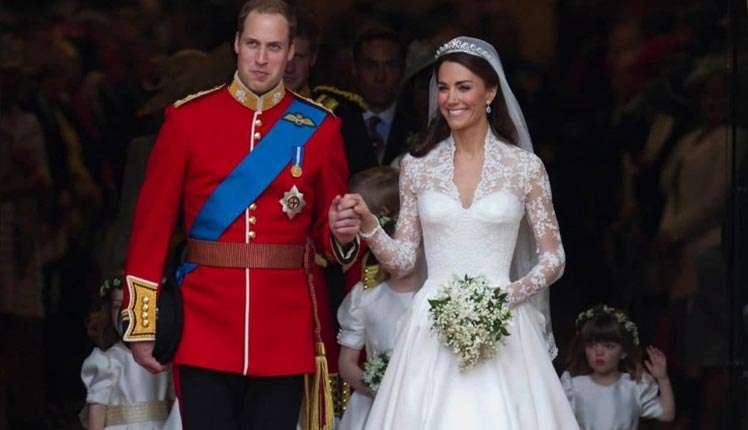 Kate Middleton carrying the Sprig of Myrtle as her wedding bouquet.
Carrying a Sprig of Myrtle
Myrtle represents love, fertility and innocence. The royal brides use to carry a sprig of Myrtle in their bouquets. The tree grew at Osborne House, the holiday home of Queen Victoria in Isle of Wight. It is a 170 years old tree, which was given to Queen Victoria in 1845 by Prince Alberta's grandmother. This tradition dates back to Queen Victoria's wedding centuries ago.
Photographs of Royal Wedding are used in post cards and order documents.
Posing for Official Photographs
Official Photographs are a part of royal wedding traditions. It started with the invention of photography during the time of King Edward VII and Queen Alexandra. In early 20th century, these photographs were used to make postcards and documents. In the recent marriage of Prince Harry and Markle, Alexi Lubomirski was the official photographer.