Streets of Monaco, the Billion-dollar Yacht under construction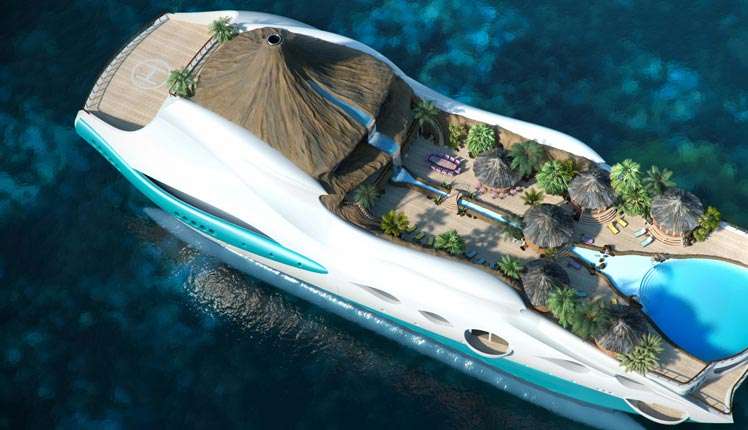 Back in 2011, Island Design, a yacht design company based in United Kingdom came up with a blue print of a billion-dollar luxury yacht. This expensive vessel was designed to replicate the actual city of Monaco. Named "Streets of Monaco," this was supposed to be an ocean liner of four floors. The company director of Island Design described the ship as a "floating city." However, this in fact, was closer to being a floating city rather than a yacht.
Streets of Monaco was designed to include everything thing that the actual city of Monaco has. Primarily the replicated area was Monte Carlo, a special locality within Monaco with several premium casinos and luxury resorts. The yacht covered a total area of 15,000 feet and was designed to accommodate several features including multiple tennis courts, swimming pools, Jacuzzi Bars, race tracts and go-kart circuits.
The living areas in the ship spread over the upper and lower decks. They both had a grand atrium with a total of seven guest suites, a library, a cinema and a shared balcony. The upper level was designed to have a 4,800 square feet suite, exclusively for the owner of the yacht. This suite was attached with entertainment facilities, cinema and libraries. Thus, it was designed as a floating city with a luxury fortress.
Apart from these luxuries, Streets of Monaco was also set to have an additional yacht. There are helipads, waterfalls and underwater restaurants in the floating city making it the only one of its kind. Even the famous Monte Carlo Casino was replicated in the design.
The estimated cost of this ship was USD 1 Billion. If it was built, it would have required a minimum of 70 on board crews. Thus, apart from buying the ship, the owner would also have to maintain the extravagant cost to keep it running.
Without doubt, the Streets of Monaco will be among the most expensive yachts of the world when completed. It is still under development and there are no latest updates until now. The Island Design described Streets of Monaco as the companies first design concept.