Sotheby's ready to auction Rarest D-Flawless diamond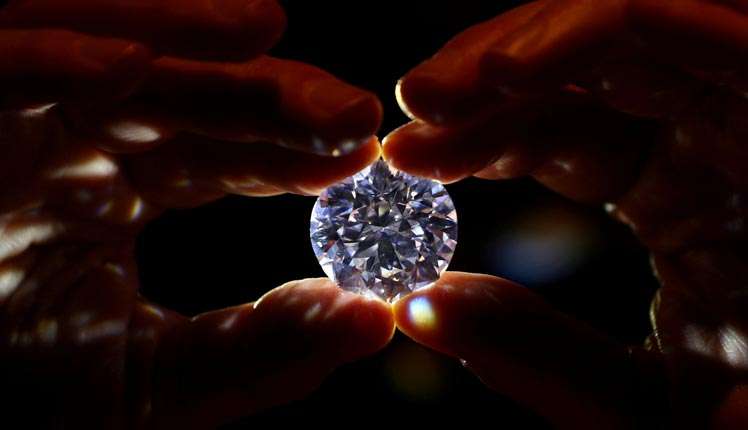 The 102.34 carat Type IIA diamond, the one, which is getting ready to be auctioned at Sotheby's, is official the world's largest, rarest and the most valuable round diamond in the world. Classified as D-Flawless category, the diamond does not have a name. It is the only diamond in existence, cut in round shape, while possessing all the four criteria of carats, color, clarity and cut.
So far, the highest bidding for this white diamond is USD 33.7 million, but Sotheby's is expecting a higher amount for the D-Flawless diamond in its next auction. It will be offered for a private sale. The most expensive diamond in any color belongs to the CTF Pink. This pink colored diamond fetched USD 71.2 million to Sotheby's. The auction was in April 2017, in Honk Kong.
The diamond was cut with a "precision of Michelangelo", from a 425-carat rough piece. This large piece was found by the De Beers group in a mine of Botswana. It is first of his kind, being found in Africa as the purest diamond. Earlier, Golconda of India was the only place believed to have the purest diamonds in the world. The round shaped diamond took six months to cut out from the rough piece, following a highly labor-intensive process.
The Gemological Institute of America described D-Flawless Diamond as the "largest round shaped, d color, flawless diamond ever graded." D-Flawless diamond has a great significance from scientific and gemological viewpoints. The diamond is studded on the De Grisogono necklace. It was sold in Geneva in 2017 November.
Two other pieces of D-Flawless type diamonds was displayed at the Geneva auction. One of this is a 51.71 carat diamond, which is round in shape and cut brilliant. The other is a 50.39 carat oval shaped diamond. Both are Type IIA. They exceed the previously estimated price, the round fetching USD 9.3 million and the oval shaped bringing USD 8.1 million.