Rolls Royce rolls out Most Expensive Car in the World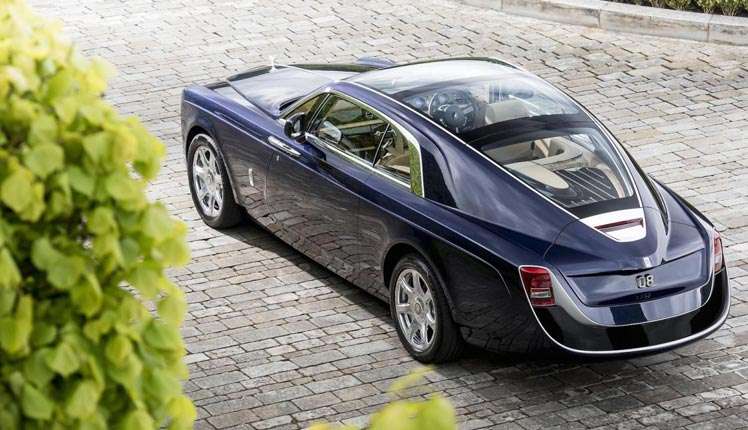 On 27th May 2017, Rolls Royce, the manufacturer of magnificent personalized car featured its latest creation. Naming this car as the "Sweptail", the exclusive motor car producer invoked its century old legacy of Coachbuilder, back from 1920s and 1930s. Marked with a price of 13 million dollars, the Rolls-Royce Sweptail is officially the most expensive car in the world. It is created for an unnamed individual who presented his own design concept. It hit the Concorso d'Eleganza Villa d'Este of Italy, the famous competition for classic and vintage cars.
It was the owner's wish to create the new car modelled closer to Royce's flagship design, the Coachbuilder. The car features a large single sheet panoramic glass roof. This is the most exotic aspect of this car. It's look and feel resemble an archaic setup but embedded heavily with modern luxury features. It is a two-seater coupe with tapered, wood paneled boat tail. The tapered design on its tail is similar to that of exotic yachts. The surface of the whole car has no visible boundary like the hull of a yacht.
Torsten Muller-Otvos, CEO of Rolls-Royce Motor Cars called Sweptail a "truly magnificent car". He said the brand's history as the world's leading coachbuilder makes it the leading luxury brand of the world. He said "Sweptail" is the proof that Rolls-Royce is at the pinnacle of coachbuilding. Per the CEO, the brand listens carefully to the most special customers and assess their interest on building masterpieces.
On the other hand, per Giles Taylor, Director of Design at Rolls-Royce, the "Sweptail" is "equivalent to Haute Couture." He said, the cars are designed and hand tailored to fit a specific customer. Customers come to Rolls-Royce with their own ideas and share them. The luxury car producer caters towards personal luxury of its customers. They utilize their own technology, which allows the brand to design cars in the image of the owner. This is the reason, Rolls-Royce has become synonymous with true luxury.