Moet & Chandon presents 20 exclusive magnums to honor Roger Federer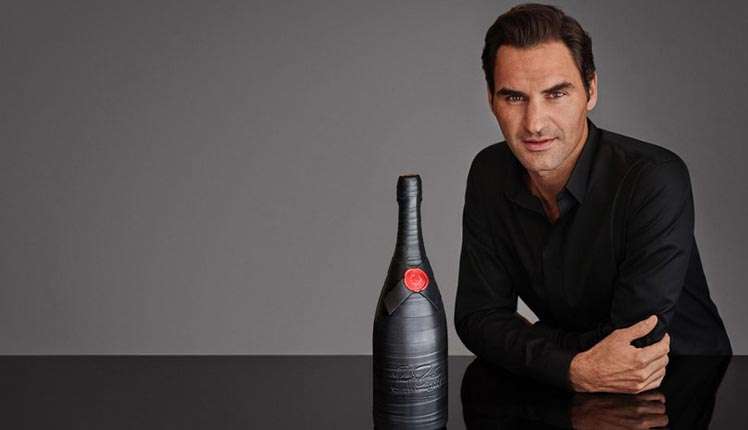 In a classy move to honor Grand Slam greatness, Roger Federer, Moet & Chandon presented a limited edition of its exclusive champagne. The tennis star has been the brand ambassador of this French wine house since 2012. The latest model is named "Greatness Since 1998", honoring Federer's achievements and his 20 years old career full of milestones.
Keeping in tandem with his career as a star player, only 20 bottles of this special champagne is made available. This is an exclusive and limited edition of magnum champagne, which will be only available to buyers of Europe. The champagne is a vintage blend kept since 1998. The honor also marks the brand's 65th vintage release.
These Moet & Chandon magnums are tinted black bottles with several special and exclusive aspects. The bottles are wrapped in handmade leather band. These bands are crafted by famous French designers to resemble the grip of Federer's tennis racket. The label features handwritten signature of the Swiss tennis player. Also, the tie of the bottles shines the message "Dreams do come true". The words, which he expressed when rated as the World's Number 1 in February 2018, is carved in gold.
These collection of 20 Moet & Chandon bottles will be available to order through Moet Hennessy's boutique from latter half of June 2018. Cost of each bottle would be USD 24,000 or 19,998 Euros. With this price tag, the Moet & Chandon "Greatness Since 1998" magnums have become the most expensive bottles in the world. The profit made of the sale would be donated to Roger Federer Foundation, which has been working for education upliftment across South Africa and Switzerland.
Stephanie Baschiera, CEO and President of Moet & Chandon said that the brand is honored to celebrate Roger Feder on his "extraordinary 20-year milestone by donating 100 percent of the profits" to the player's charity foundation. Federer, expressing his gratitude thanked the band saying he is "thankful for this generous donation". He said, his foundation aims "to touch the lives of one million children through education" and Moet & Chandon is helping them to meet this ambitious goal.