'Laughing Skull' is the new hot-model by Bell & Ross watches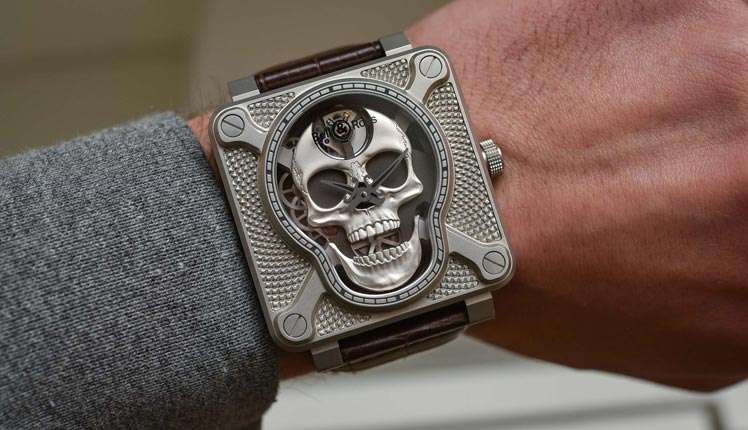 The Bell & Ross Laughing Skull Watch is creating the latest sensation in fine watch market. Since the brand's debut back in 2009, the 'Skull' has been the integrated part of its design. The new design has a laughing skull, which bearing a strong insignia of innovation and craftmanship. This watch is only the 5th design concept in-line, presented by Bell & Ross. The brand marketed it under the model name of BR 01 Laughing Skull.
Bell and Ross's skull concept had its basis on the famous BR 01 Tourbillion Skull, which made a strong impression back in 2011. Latter in 2015, the same design was presented with a bronze remake. After a year in 2016, the brand started its innovation designing the Burning Skull. The watch had a three-dimensional touch. The design was engraved case recessed with black lacquer. Also, the ink used by tattoo artist was used.
Although Skull has been a symbol of courage and tenacity bearing in pirates, it has also a sharp humorous side of it. The latest watch with an animated theme has an intricate mechanism running on its background. It runs on an ingenious movement mechanism developed by Bell & Ross. Apart from high artistic value attached to the design, it is loaded with intricate technology. It is a step ahead of all designs produced by Bell & Ross so far.
In previous design the skulls were static. In the 'Laughing Skull' model, the jaw bone of the skull moves when the hand-wound movement is manipulated. Another addition is the caliber support made of 4 bridges from the crossbones in the case to the main plate. This is fitted in a single system making the skull appear floating weightlessly in the center of the case. This is the new BR-CAL.206 model caliber system.
The new model is launched in two versions. For watch lovers, the first model is studded with diamonds on its bezel outline. It is named the BR 01 Laughing Skull Light Diamond. The second model named BR 01 Laughing Skull Full Diamond has more diamonds on the surface area. Four larger diamonds are placed on the four screws, making the total number of diamonds to 394. The total weight of diamond in the watch is 2.891 carat.