HondaJet unveils "Elite" as its latest hit on Private Jet market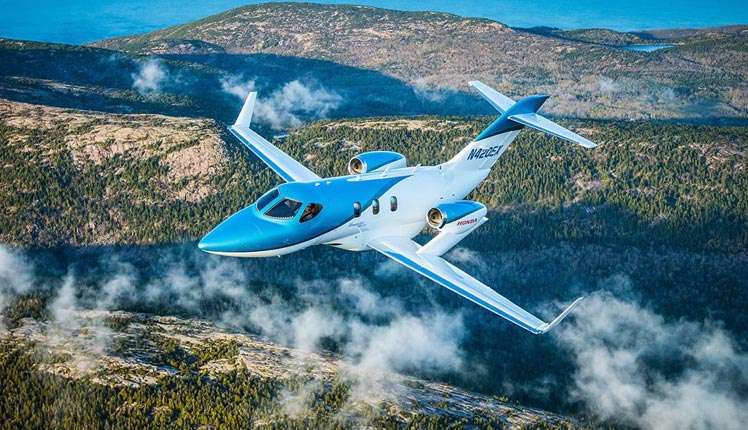 Founded in 2006, HondaJet unveiled its latest model. This version is an upgraded range of its popular flagship product, the HondaJet. The new jets have higher range of operation adding 17% more to its predecessor. The previous one could fly 1,407 miles in a single flight, while the Elites added another 246 miles into the range. Apart from the range, the new craft has also several enhanced features. The Japanese company made a strong mark in consumer jets market, making HondaJet the bestselling light aircraft in 2017. The new jets are priced at 5.25 million US dollars.
The acoustics of the new Elite jets is among the major attractions. The craft is developed to have a cabin with highly reduced noise. The sound technology used in this light craft is used in business aviation. Honda is using the technology developed by Bongiovi Acoustics system. It has 24 transducers to reduce noise hidden in the interior of the panel. Calibrated to more than 100 points in the cabin, the system behaves as a resonating surround-sound system.
Also, Honda used an ingenious idea to lower engine noise in the cabin. The engines are mounted above the wings to reduce cabin noise. Another technology to reduce noise is the "Perforated inlet technology". In this system, the inlet funnels air directly into the engine fan blades. The inlets used in Honda Elites are perforated with small holes, which are tuned to the frequency during normal flight condition. Per HondaJet CEO Michimasa Fujino, the company tried to tune the craft to a minimal drag and reduce its weight. This had its effective impact on the range.
Other enhancements in the Elite is the coffee machine and belted lavatory. The craft has also an efficient fuel management in place, providing the best as per the industry. HondaJet Elites is hitting the market in three colors: Ice Blue, Ruby Red and Monarch Orange. The Elites looks almost similar to that of the HondaJets, but the interior and of course the feel would be much upgraded.