Decoding Frida Kahlo in her five paintings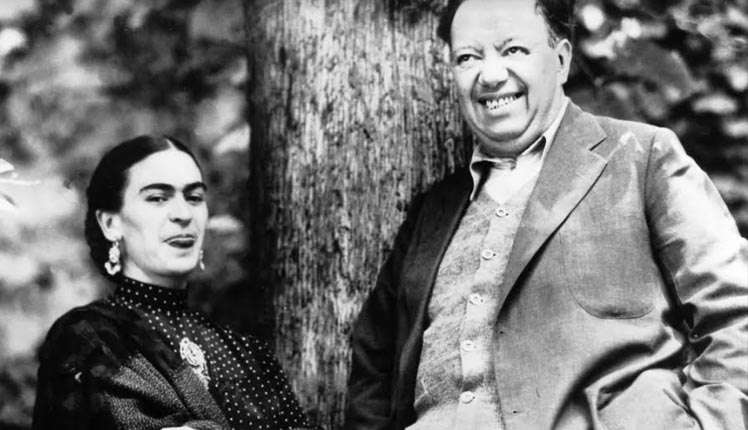 Frida Kahlo's creations and paintings are inspired by popular culture of Mexico, in a mix of folk and native art. It is the strength of meaning and symbolism in her paintings that hauls her works to the highest echelons of modern art and painting. She painted 55 self-portrayals of herself, ingrained deep in metaphors and strong symbolism. Here we have made an attempt to decode five of her paintings.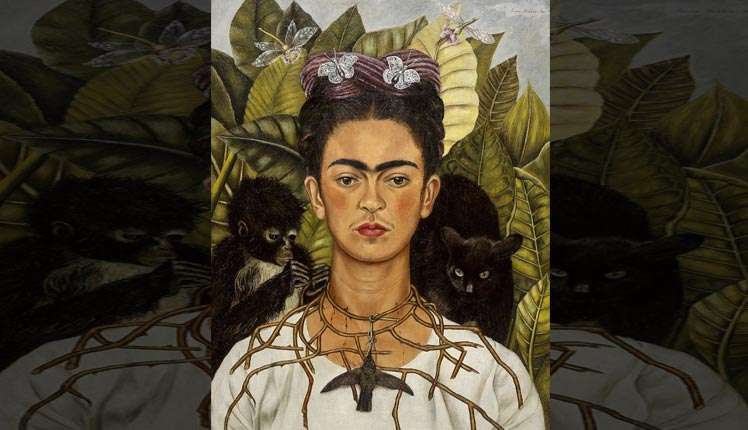 Frida painted "Thorn Necklace and Humming bird" as a depiction of her emotion and pain after divorce.
Autorretrato con collar de espinas
Kahlo painted the Autorretrato con collar de espinas or "Self-portrait with Thorn Necklace and Hummingbird" in 1940. After divorce from Diego Rivera, her husband, she reflected her emotional state in the tumultuous times of her life. In the perfect depiction of her statement after divorce that "at the end of the day, we can endure much more than we think we can".
In the painting, she places herself between a stalking panther and a monkey. She is wearing a necklace made of thorns where a lifeless hummingbird hangs as the locket. This thorny necklace is drawing her blood but her expression is calm and stoic.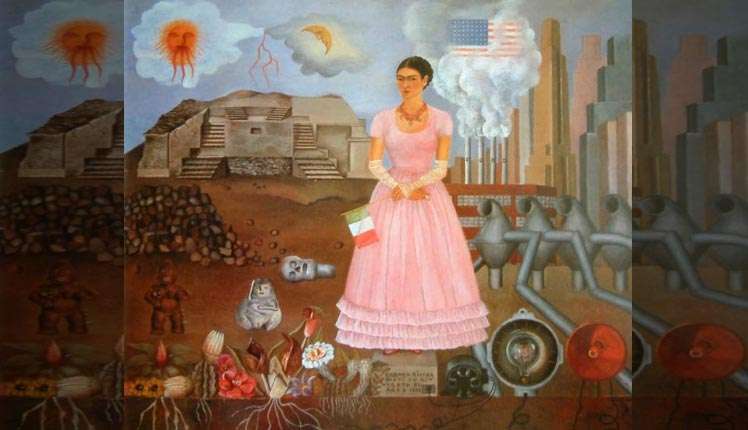 Border between Mexico and US presents her feelings in America. Courtesy: fridakahlofans.com
Autorretrato en la frontera entre México y EEUU
In this painting named "Self-portrait at the border between Mexico and the US", she placed herself on a pedestal wearing a simple pink dress. The background has images with motives from US and Mexico. She depicted Mexico with elements from Aztec culture and nature, while depicting US with industry and technology. In the painting, she holds a small flag of Mexico.
Frida painted this when she stayed with her husband, Diego in the US for three years. Apparently, while her husband enjoyed the American life, she missed Mexico heartily.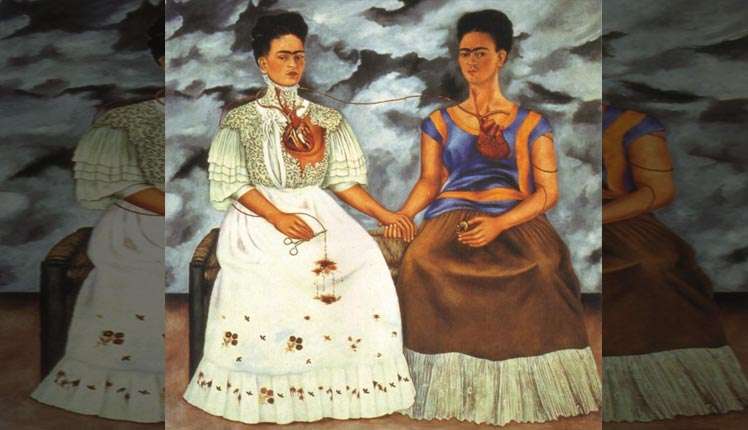 Two Fridas is a perfect representation of her sorrow and self-consolation.
Las Dos Fridas
In "Two Fridas", there are two identical self-portraits depicting herself in two different personalities. One is Mexican Frida and the other one is European Frida. The hearts can be seen in front of the clothing and a vein connects them. Both of them are holding their hands while the European Frida cuts the vein from heart at her lap.
She painted this after her divorce with Diego, while she was devastated. She found herself split between her personalities that she had to maintain for her husband and her own choice. The European Frida is in utter pain, depicting her sorrow as she cut the heart vein. This is symbolic to her divorce. Both of them holding hands mean none other, but it is only she who could understand her distress.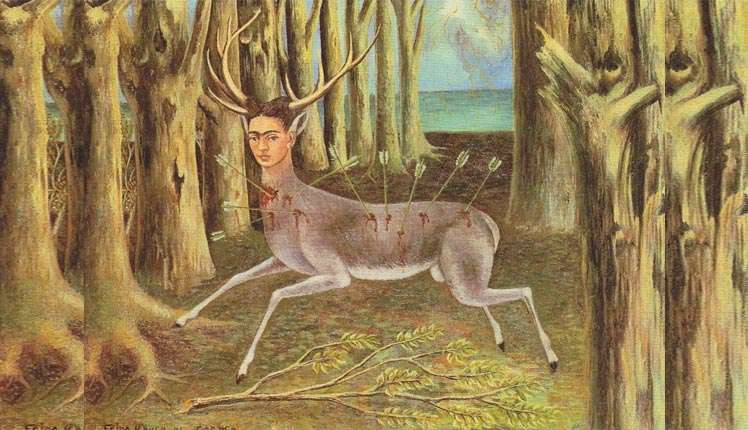 Itching the word "Karma" on "Poor Little Deer", Freda depicts her own insecurities and guilts.
Pobre venadito
In "Poor Little Deer", a Kahlo depicted herself as a deer. The body is pieced with multiple arrows and she is alone and injured in midst of a forest. Also, the word "Karma" is itched at a corner of the portrait.
She painted this after her spinal surgery, in which, she had to undergo utter pain. Still, the surgery could not heal her and she had to endure more pain then before. She replicated her pain as body of a deer wounded with multiple arrows.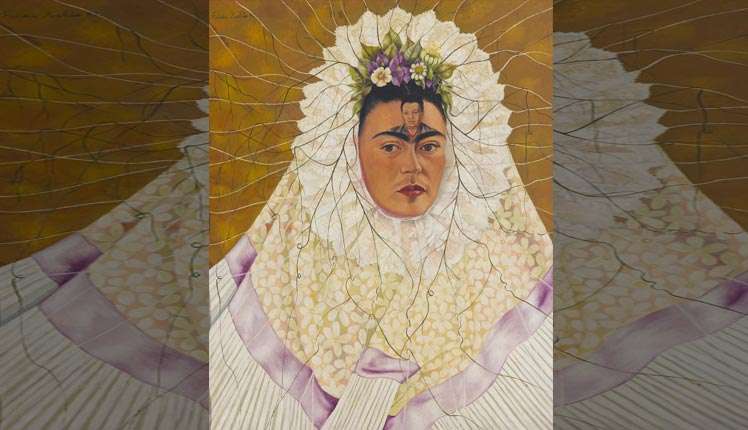 Thinking of Diego" represents Kahlo's longing to regain love after divorce. Courtesy: HABLA CULTURA
Diego en mis pensamientos
"Thinking of Diego" has Diego's face placed on her forehead. She is wearing a tehuana and around her face are countless cracks.
The painting represents her love for ex-husband Diego, even if the latter had affairs with many women. The tehuana dress represent her desire to recover Diego's love as it was his favorite dress. The cracks symbolize her broken self.
Frida Kahlo's artworks represent simple artistic techniques unlike complicated styles like Monet's Impressionism. Her auction value is less, but the powerful meaning the paintings depicts would make them heavier in times to come, if not immediately.