Becker's new JetVan is a customized sensation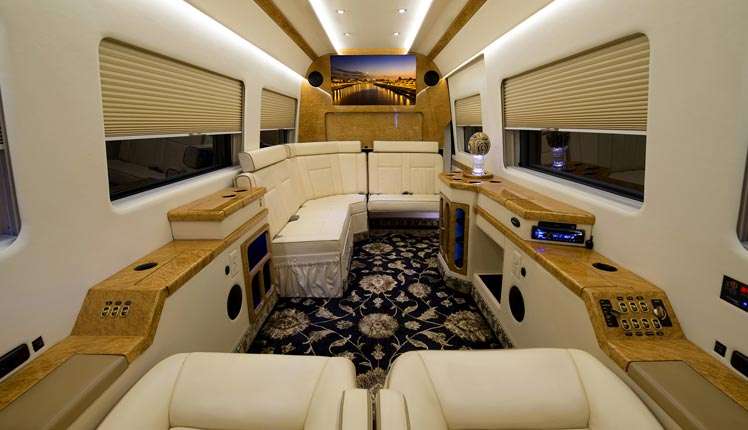 The interiors of the new JetVan by Becker. Courtesy: BECKER AUTOMOTIVE DESIGN
Becker, a vehicle customization service, is creating a new wave of assembled automobiles. The company's latest JetVan made a strong impression with loads of integrated luxury features. This is a van with a complete ensemble of several high-tech features. A microwave oven, an expresso maker and fully equipped tableware are fitted inside, transforming the van to a comfy dinning and cooking space. It has automated rear seats that sets up on a press of a single button.
Natalia Wilner, an interior designer from aviation industry with two decades of experience, has designed the interiors of JetVan. Her expertise is to design and decorate in least space fitting the best amenities. She uses limited dimension and area, creating most amenities out of it. On JetVan, Wilner commented that she loved "the challenge" of small space. She utilized the space to fit every thing from a blender to a vacuum in it. The van also has three large screen TVs. Surprisingly, the interiors of the van still look spacious.
Designs from Becker always bears the insignia of orderly seating plans in limited space. Also, the company customizes vehicle to be bomb and bullet proof. They convert the interiors with sleekly designed wooden furniture, and leather coverings, making the space as classy as possible. The latest JetVan takes the definition of comfort to a higher level. The van has a customized air suspension system. Additionally, the noise reduction technology makes its interior a quite space even while on the run. JetVan is made of heat-insulation materials. The air-conditioning system insures fresh air inside the vehicle with optimal oxygen.
Becker will design each of the JetVan as per requirements of buyers. Therefore, each of these vans will be customized differently. Per reports, a car might take as long as six months to complete. Earlier, the company produced its famous Mercedes-Benz Sprinter van. Per CEO Howard Becker, the idea of his company is to provide everything a person can do inside a vehicle while traveling in a private jet. Becker has designed several customized vehicles including the Cadillac Escalade, Chevrolet Silverado, GMC Yukon, and Ford Transit Connect.